Thanksgiving Away from Home
Well, we made it through our first Thanksgiving overseas. I'm not sure it was less hard than I expected. But it was more fun than I expected! I'm not totally sure how both of those can be true, but at any rate, they are.
Thanksgiving morning I kept M home from school and then the kids and I went to the market to buy groceries for the Thanksgiving meal I was going to cook on Friday. All I have to say about that is that Thanksgiving vegetables are really heavy. Potatoes, green beans, onions, these are really dense vegetables. Why don't we eat leafy greens on Thanksgiving? Also the guy at the market looked at me like I was totally crazy as I kept picking up sweet potatoes and asking for more bags. Then when I told him we have to eat sweet potatoes on Thanksgiving, I think he thought I was even crazier.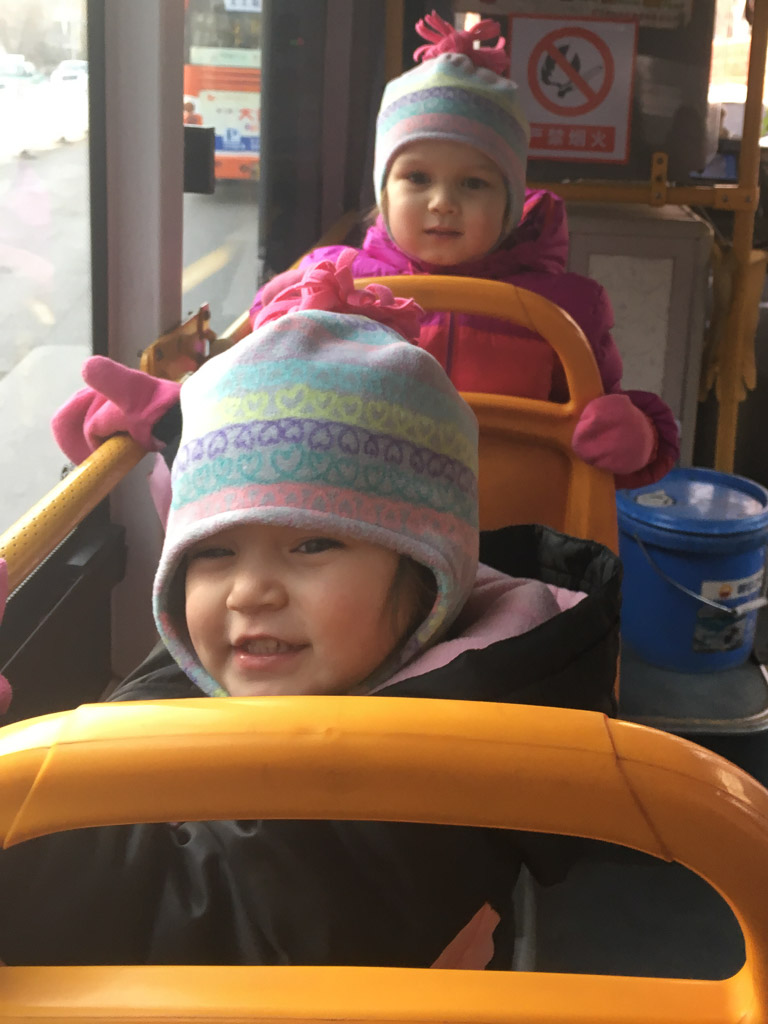 Riding the bus to the market.
Apparently a lot of people here know about Thanksgiving. M's class learned a little about it on that day (I observed this via the group text since she wasn't there). But apparently the main point was that the children should be thankful for their parents and each child's homework assignment was to wash their parent's feet that night. Talk about a different kind of Thanksgiving! All these moms were posting pics of their kids leaning over a bucket of water washing the mom's feet. I guess that's not such a terrible take-home point, but it sure was a bit shocking to me!
Anyway, we joined a pretty big group of Americans for a Thanksgiving day dinner (by the way, this whole Thanksgiving-dinner-is-eaten-in-the-evening is a new thing for me; my family always does lunch). About 40 people, including kids, crammed into someone's house and we all ate sweet potato casserole and green bean casserole and mashed potatoes and stuffing made with bread crumbs like I've never had before that I think must be from the North and even turkey! Somebody here sells enough turkeys to satisfy the expat community at Thanksgiving. So that was really fun.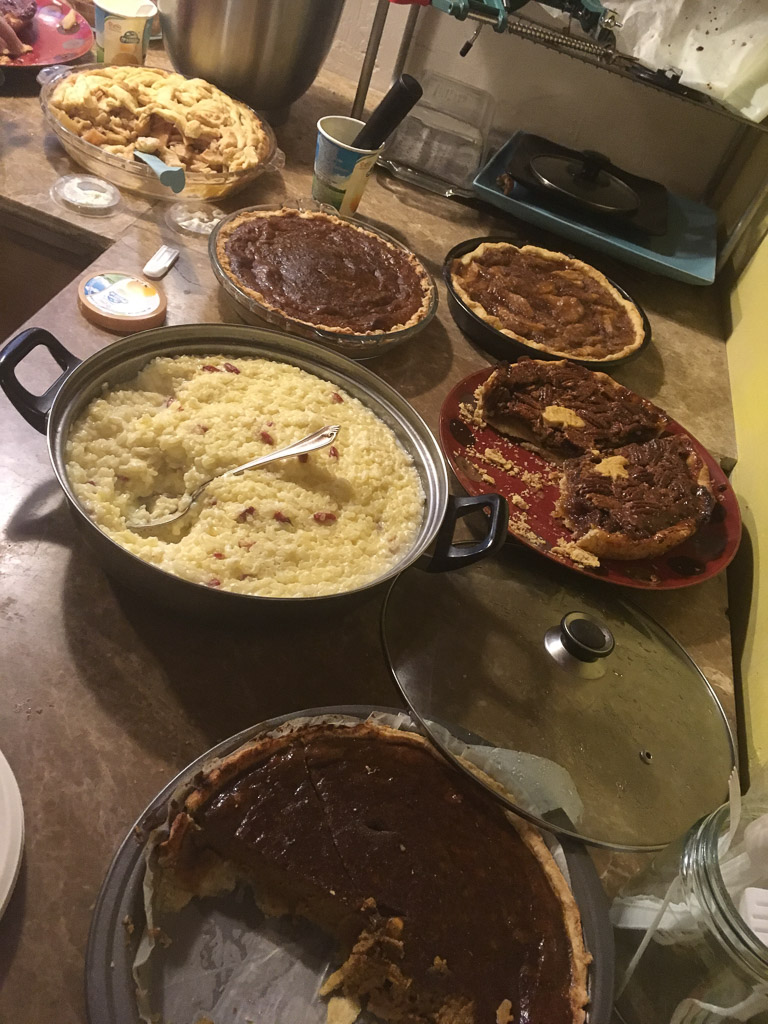 The dessert spread including a British rice pudding!
We played games and some people watched an old football game from the 70s (watching football on Thanksgiving is also new to me) and the kids ran around and pulled out every toy in the house. It was a blast. Although we'd met most of the people there, we only knew 2-3 really well, but it was still really comforting to be in a loud, festive environment when I felt like it was the right season for that. And it was pretty fun to get to know some of the other families here a little better.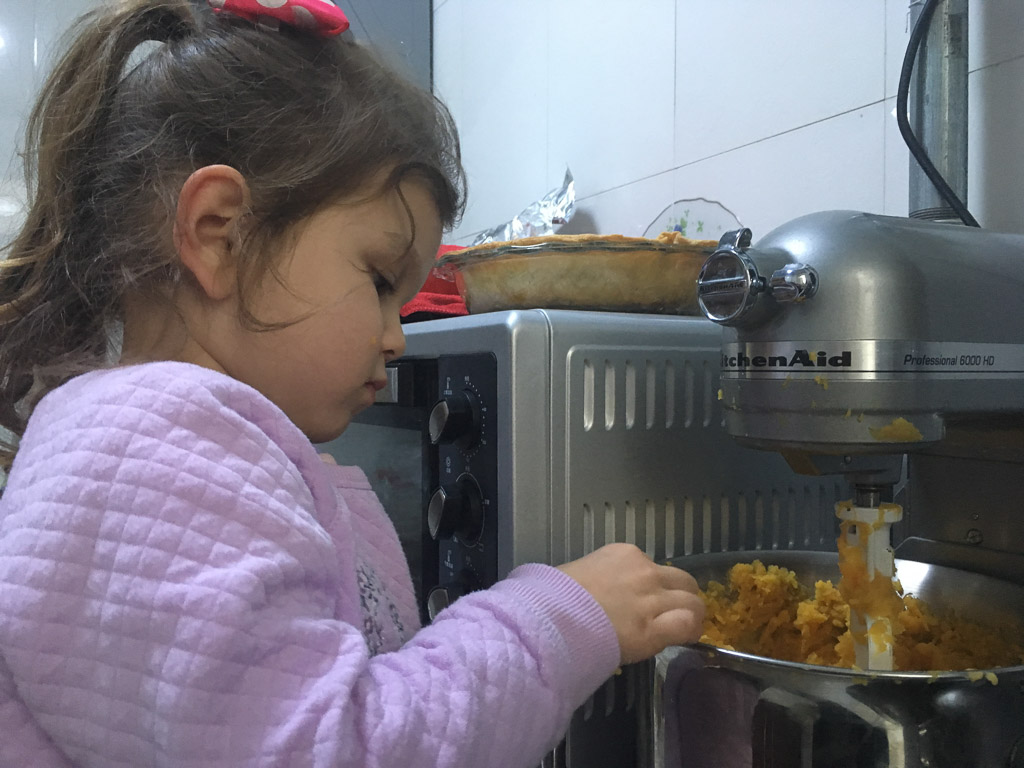 Mama! It doesn't have eggs in it! I can eat it! (Mashed sweet potatoes on their way to casserole)
Then on Friday, I cooked Thanksgiving dinner for some other non-American expat friends here because I was feeling sad about not getting a chance to cook Thanksgiving food. Boy, did I cook. I think I spent 10 hours in the kitchen. But it was so super fun! The most difficult part was green bean casserole--suddenly it went from two cans of green beans, a can of cream of mushroom and a can of fried onions to washing, chopping and boiling the green beans, chopping mushrooms into a roux mixed with milk and lamb broth, and trying to fry onions in a wok. WAY HARDER FROM SCRATCH.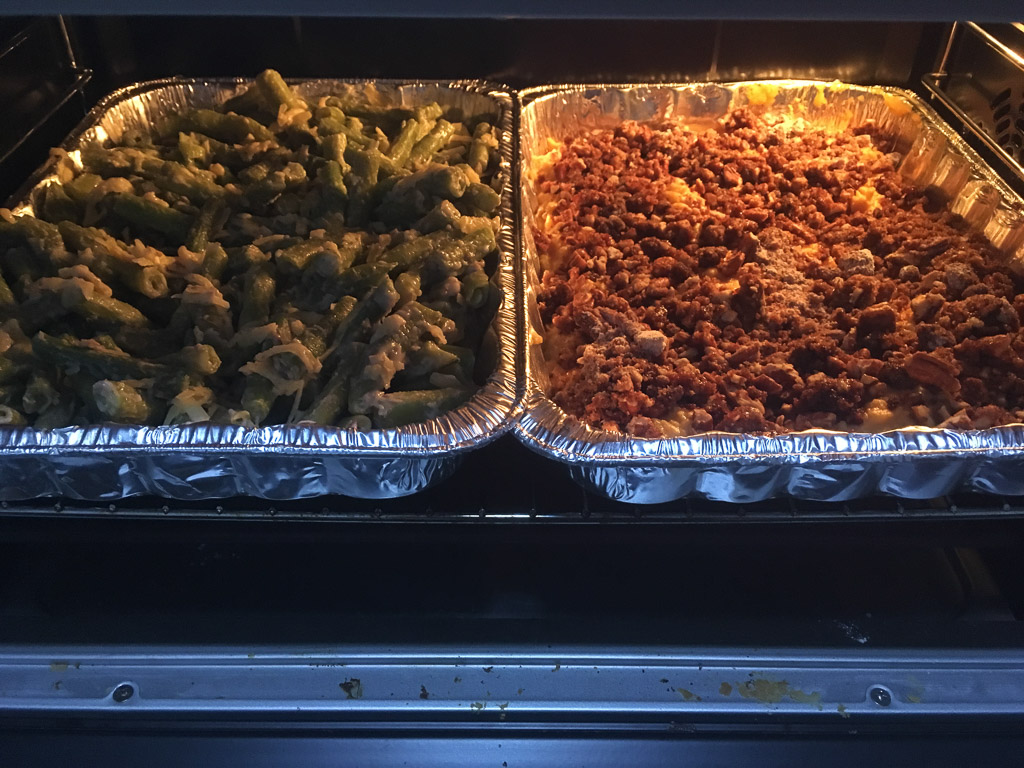 Our oven is big enough to fit two 9x13 pans!
But my favorite thing was that one of my aunts from Louisiana gave me some tips on how to make her rice dressing and IT WAS SO DELICIOUS! H asked for the fattiest cut of beef at the meat shop and had them grind it with their machine; then after I browned it I made a roux with the drippings and sauteed bell pepper and onions and then mixed all that together with some cooked rice. Holy cow it was so delicious. I think I must miss cajun food, because I ate like three bowls of that stuff and hardly even touched anything else, even though other people brought really delicious food and my other food wasn't that bad. I will DEFINITELY be making that again.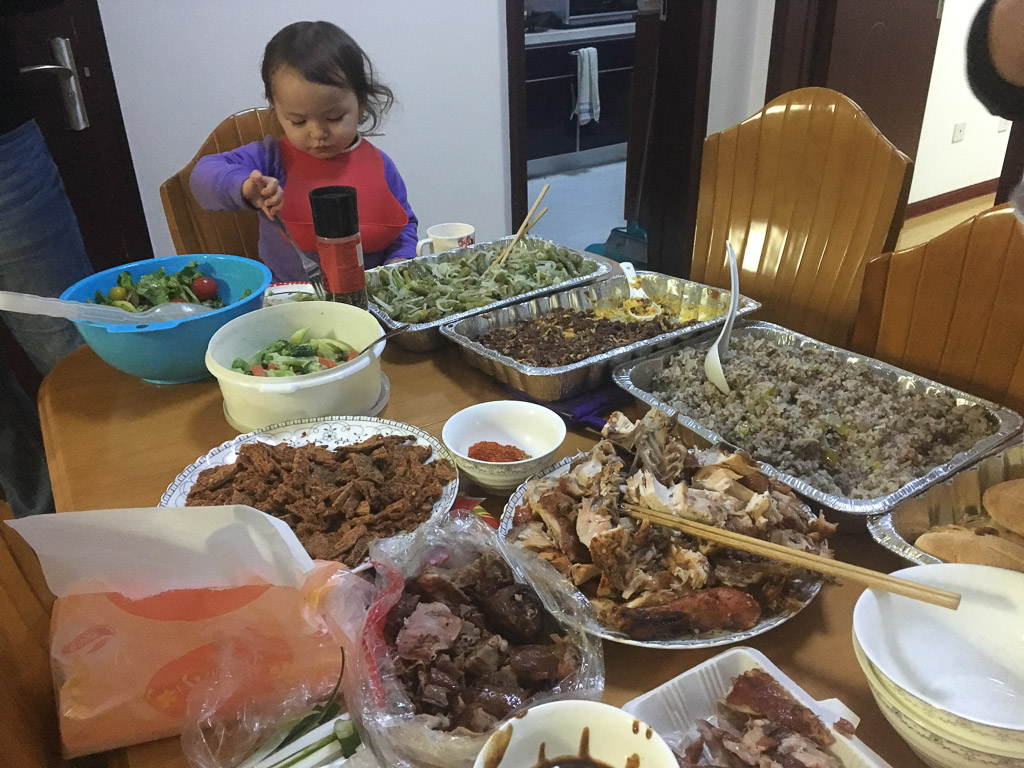 Look at that rice dressing...
At any rate, everything was really fun and I was really grateful to have people around to celebrate with. Definitely not the same as the old house on Yellow Bayou. But not so bad.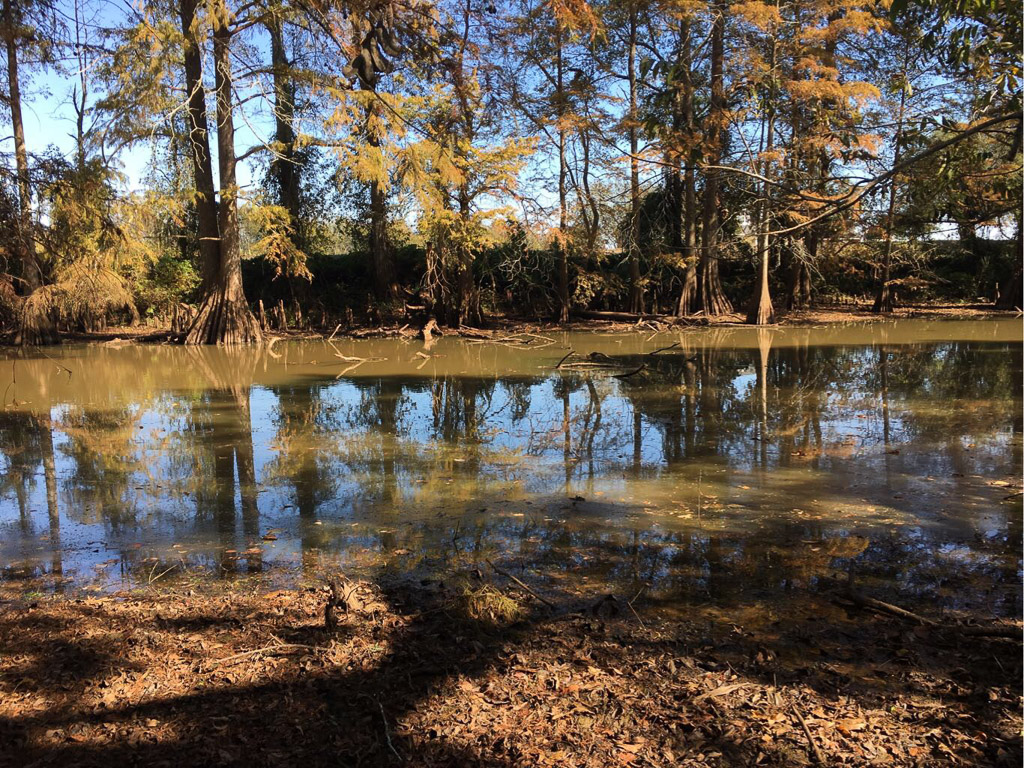 Yellow Bayou in front of the old house where we usually spend Thanksgiving.