As you can see, we like to have birthdays in the last half of the year.
The day after Thanksgiving this year was my birthday and the beginning of a new and much older decade. (Eye gel, anyone?) Although I was pretty sad in the morning since H and M both went to school and my whole family was hanging out in Louisiana without me, having some people over for Thanksgiving dinner that I cooked kept me pretty busy and excited. And of course it was nice to have people over! They stuck a candle in a pecan pie and sang to me, which, believe it or not, was definitely not my first birthday pecan pie.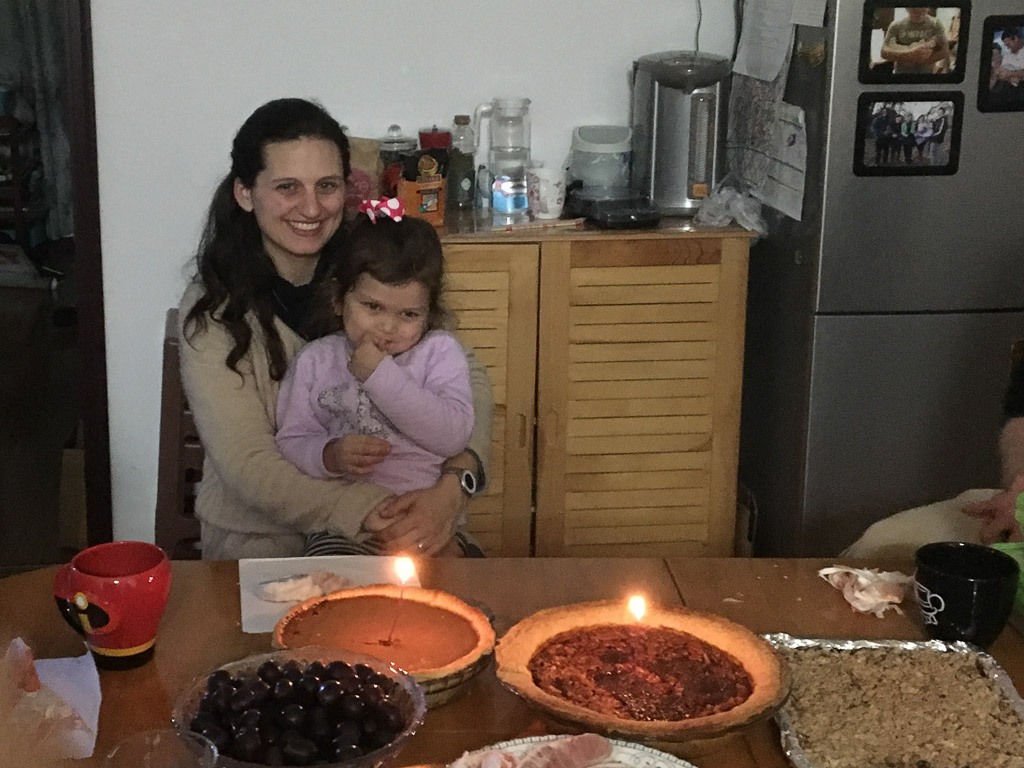 Birthday pies! Two!
H's parents bought me an espresso machine for my birthday, and my parents bought me a coffee grinder, both of which we had received about a week beforehand, so H has been busily trying to figure out how to make the perfect latte. He's almost there! So he made me a birthday latte, which I drank very happily before bringing M to school.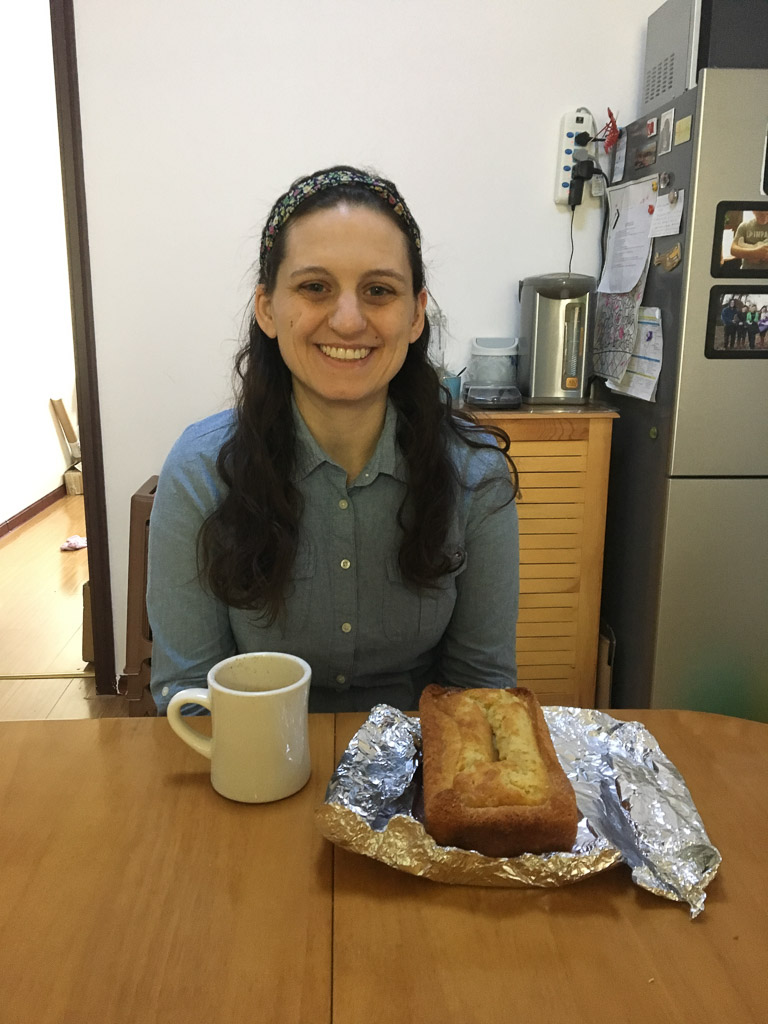 Birthday latte! I hope this becomes a tradition.
He also baked me something, which is my favorite birthday tradition (past years have seen croissants and almond cakes). This year I picked a pound cake, mostly because it didn't need any hard-to-find ingredients and boy was it delicious! It was so heavy we could only eat one slice without feeling sick, but for the next week worth of breakfast I happily ate my one slice of pound cake with my latte every morning! What a great husband!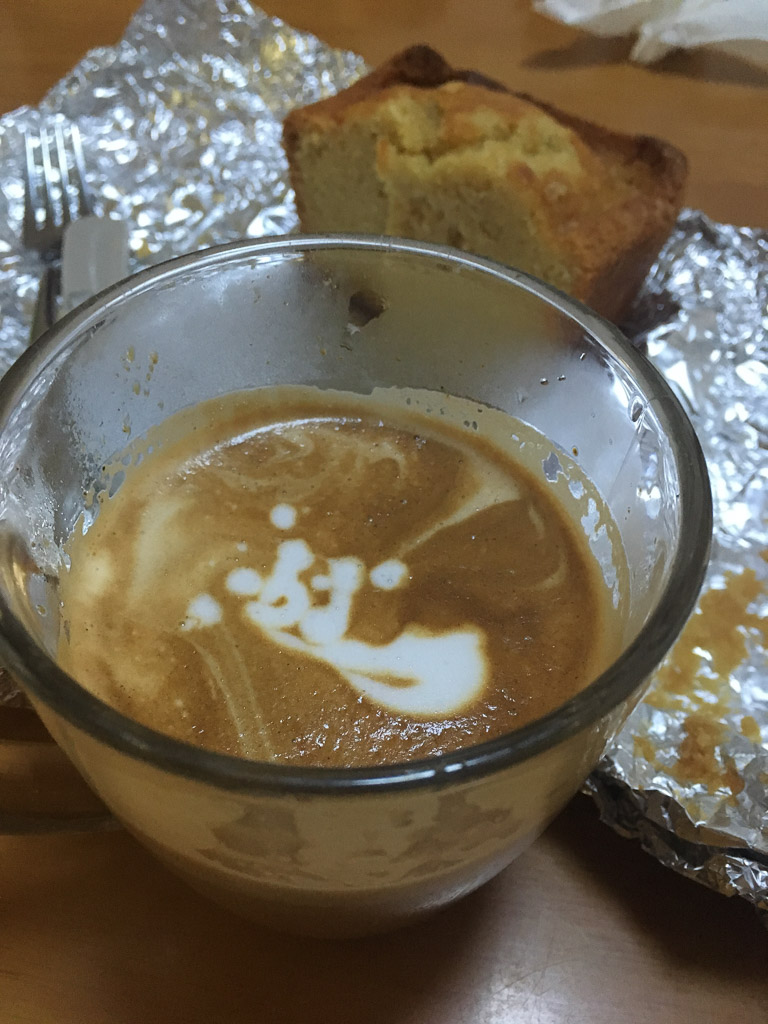 Latte and pound cake! I'm pretty sure that fancy latte art was an accident.
H also noticed my affinity for the slightly rocking second-hand Ikea chair we got after moving in here and thought that I may like a gliding rocker. WHOA. So perceptive. Actually, this is the first placed I've lived in my entire life that I haven't had a gliding rocking chair, including my college dorm rooms. So he did some research and found some company that manufactures gliding rockers for the US market and also sells them here. So he coordinated a ton of people and they all pitched in and I got a gliding rocker! Man, was I shocked when that thing showed up. I thought there was no way to get one here! Now I sit in it every morning with my latte while I'm reading. So comfy! Thanks to all of you who contributed! I feel loved every time I sit in it.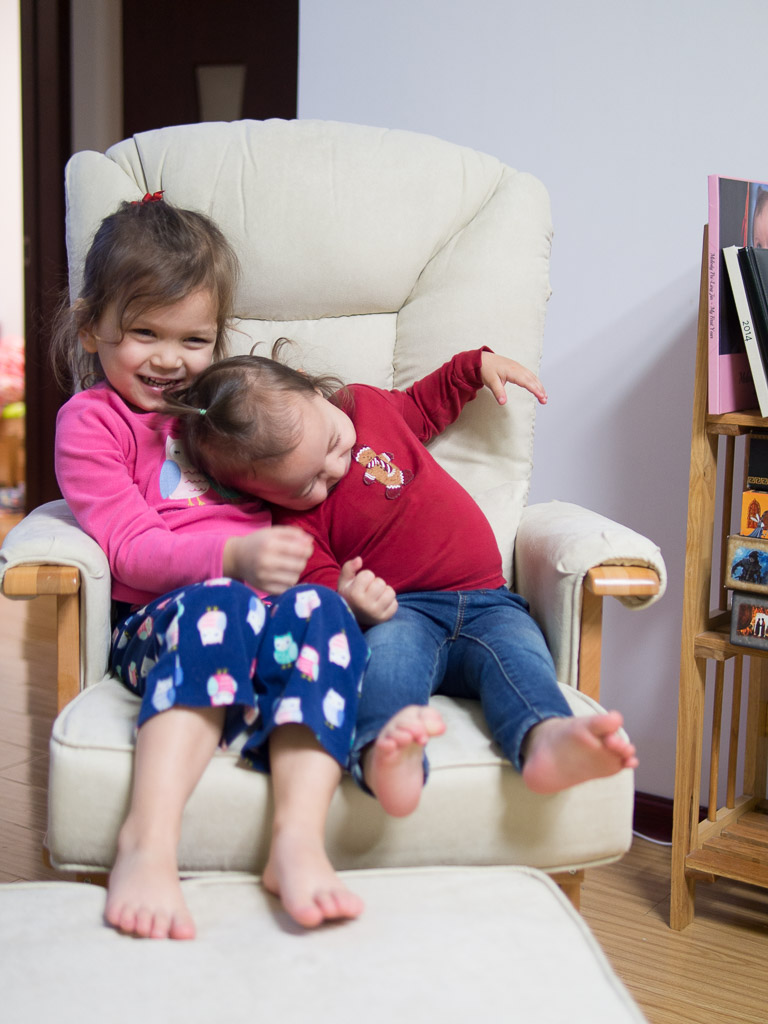 E and I have some trouble determining if it's her chair or mine.
It was a good birthday! Maybe next year, I'll go for a birthday hiking trip again... that was really fun last year.