As promised, here is the second part of my Christmas post. Last week I described how we celebrated just the four of us. This week I'll talk about the people we had over and cooking for them (why is cooking such a major part of my life...?)
We had two groups of people over, first was my tutor, her husband and one of their cousins that has been hanging out with another expat friend of ours, so we invited all four of those people over. They're so fun. I made my traditional holiday favorites: sweet potato casserole, green bean casserole and a new recipe that H helped me make, corn casserole (shocking, harder without creamed corn). I also tried roasting a duck. Christmas duck. It's a thing, right?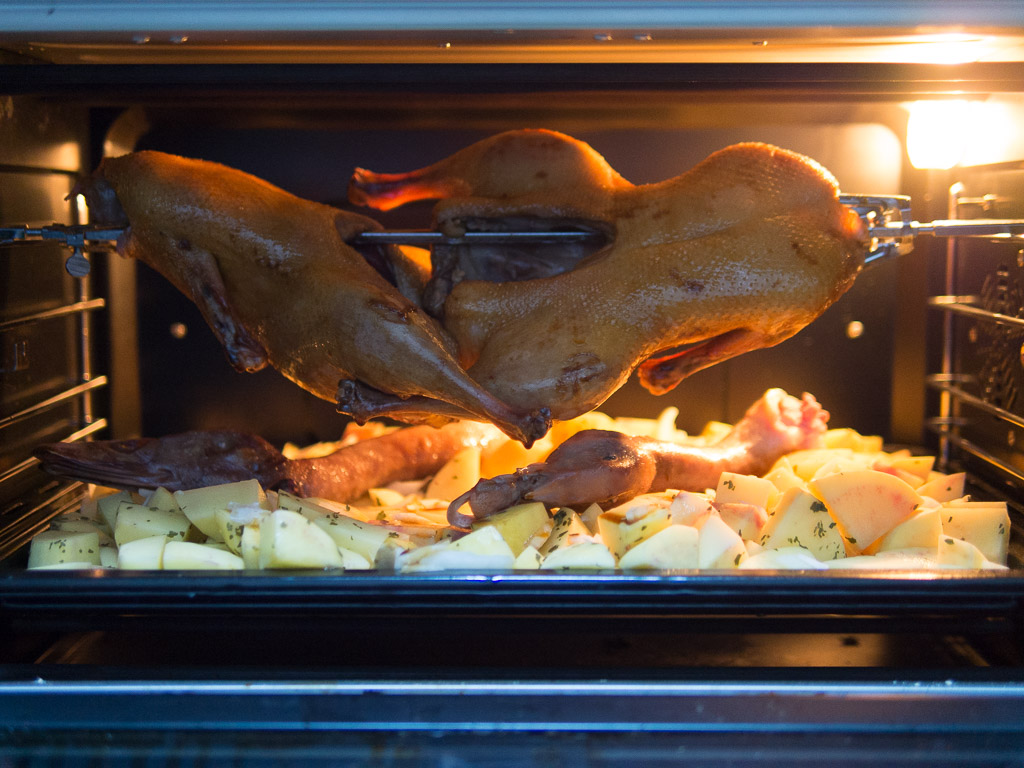 Roast duck! Too bad the potatoes underneath made it so the fancy rotisserie thing couldn't turn. Like those duck heads there on the bottom?
All in all, much easier the second time around! (I made most of those dishes at Thanksgiving.) The french fried onions we recently got in a care package were a huge hit and so was the corn casserole, much to my surprise now that I know how much dairy is in those things.
The duck was quite an adventure. Apparently, raw duck is not that easy to find here, which was unexpected. So I tried several places and finally just walked around a big chicken-selling area asking people where to get duck. The responses varied with about half the chicken people saying that no one there sells duck and the other half saying that there was a duck place in a certain direction. Anyway, turns out someone does sell duck! Although it already had spices and stuff on it, which was okay since I had forgotten that I needed to marinate the duck the night before. But it did mean that it didn't taste very "traditional."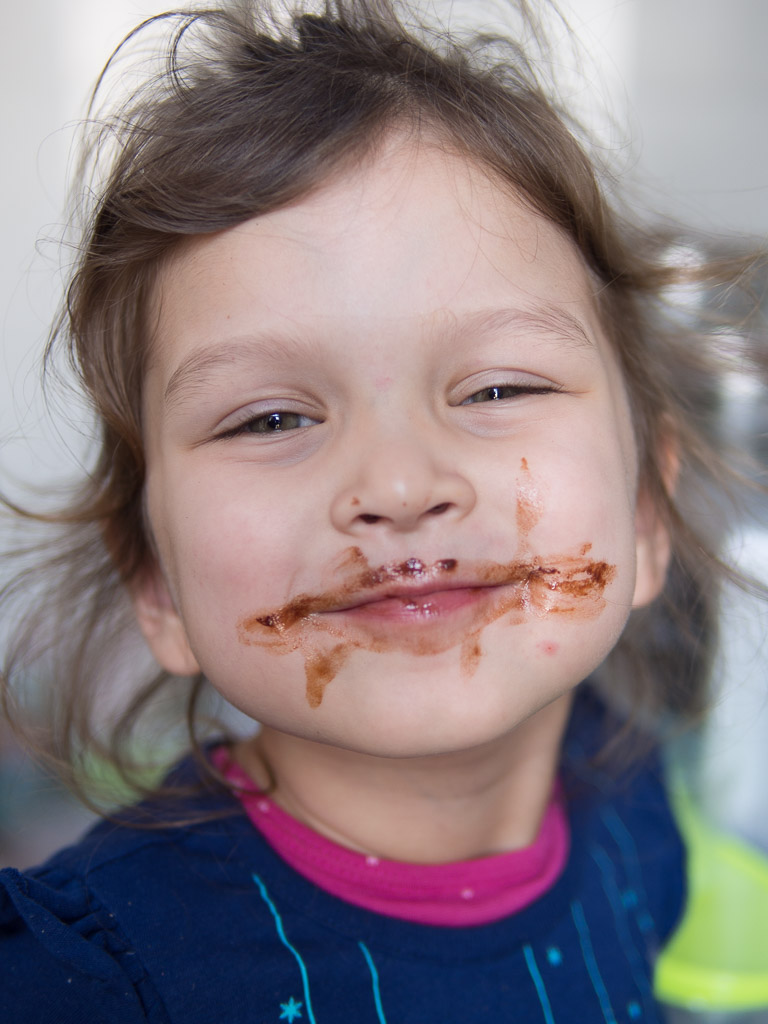 Best part of making Christmas candy.
Anyway, I found the duck and very proudly used a newly learned phrase, "I've searched for half a day and couldn't find duck!" which means something like, "I've been searching forever!" Always good to be able to exaggerate in a foreign language.
I also made chocolate peanut butter balls, which is one of my Christmas favorites that I've never actually made myself. After overheating and ruining more than a pound of chocolate, I finally figured it out and they were delicious! But none of the locals liked them since they're so sweet.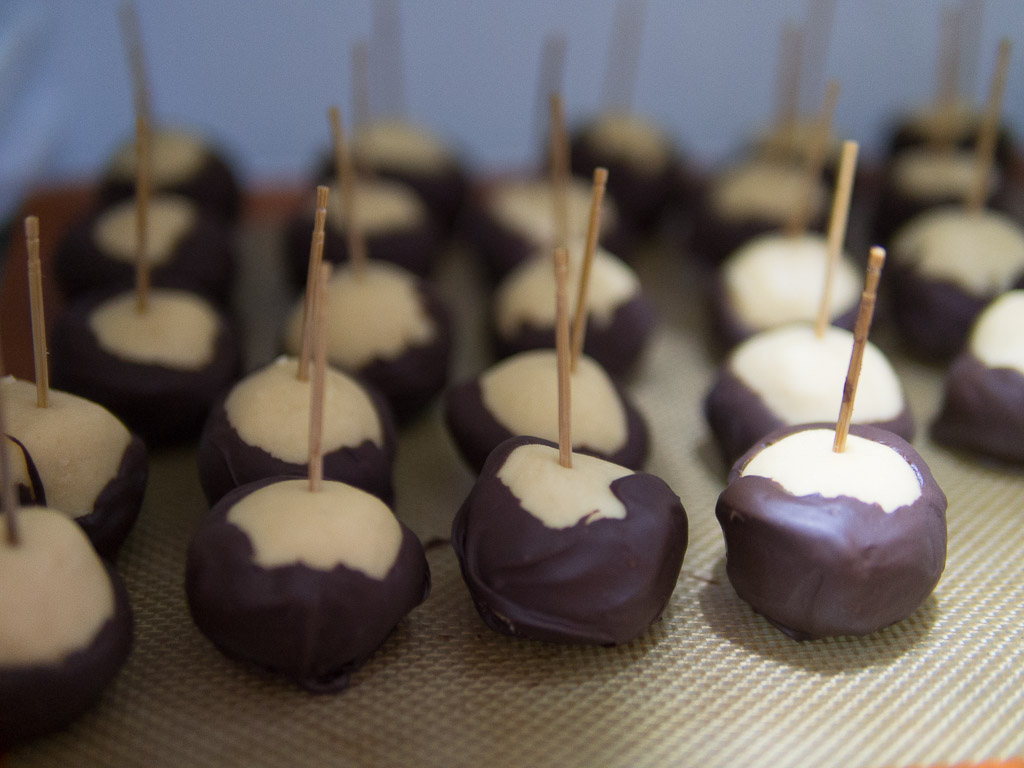 Chocolate peanut butter balls!
The kids also helped me bake and decorate sugar cookies in Christmas shapes (with a few odd giraffes in there), which was super fun. Since I didn't have almond extract for the icing, I put some peppermint oil on a whim and it was delicious! I will definitely be putting peppermint in my Christmas cookie icing from now on.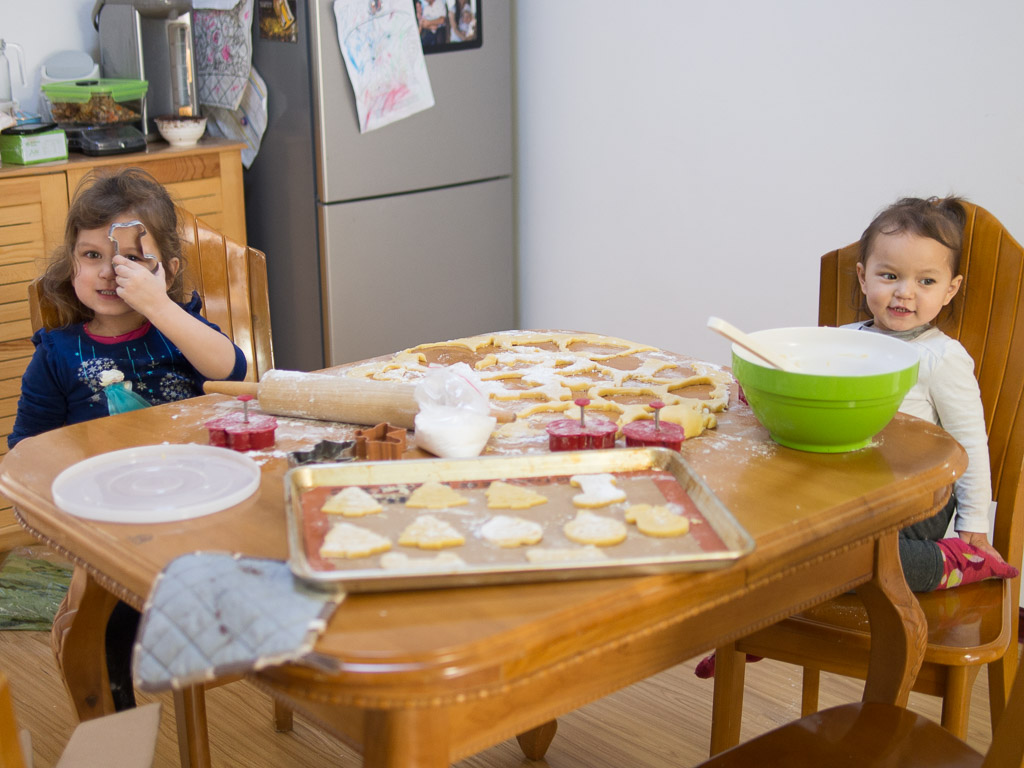 Making cookies
The day after Christmas, we also had our downstairs neighbors over for dinner, which was a super fun chance to get to know them and their kids better. Unfortunately, because I was so tired from having my tutor over only three days before and from Christmas day, I picked food that was easy to make instead of thinking about what would be more Asian-taste friendly. The wife, who apparently likes Western food, really liked it all, but the husband barely touched anything. Ha. Next time I'll make Cajun food or something more Asian friendly for them.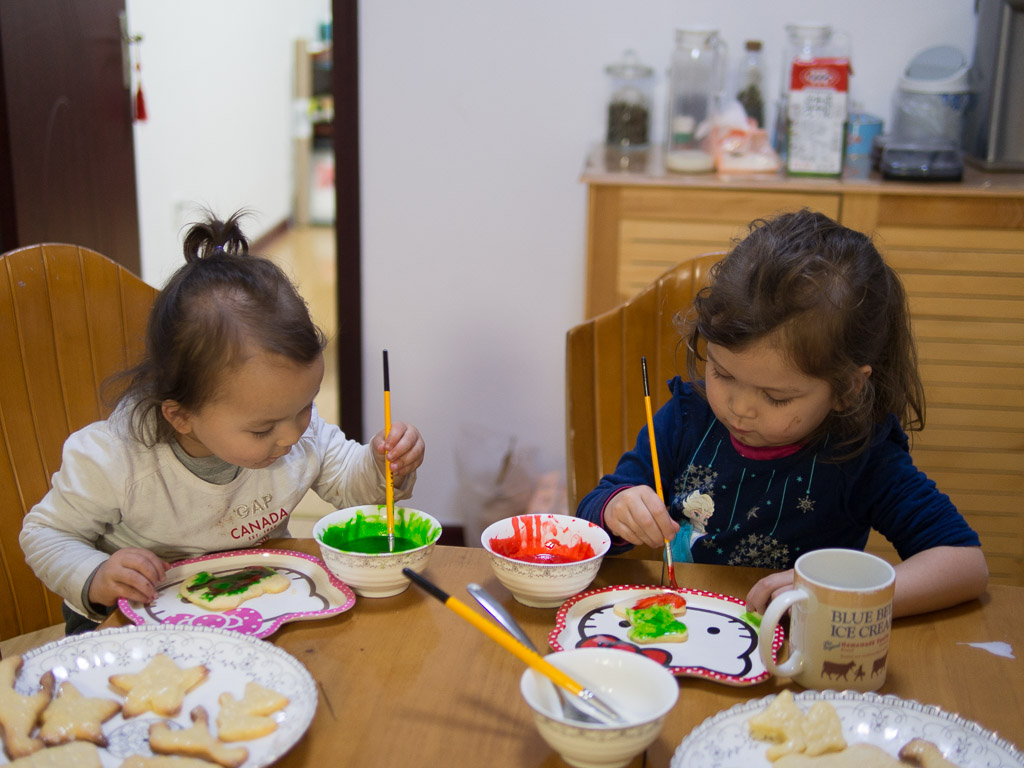 Painting cookies
I also continued my tradition of failing at making pralines. Doh. This year I think the problem was not stirring it the right amount. Oh well. I'll try again next year and hopefully break the curse.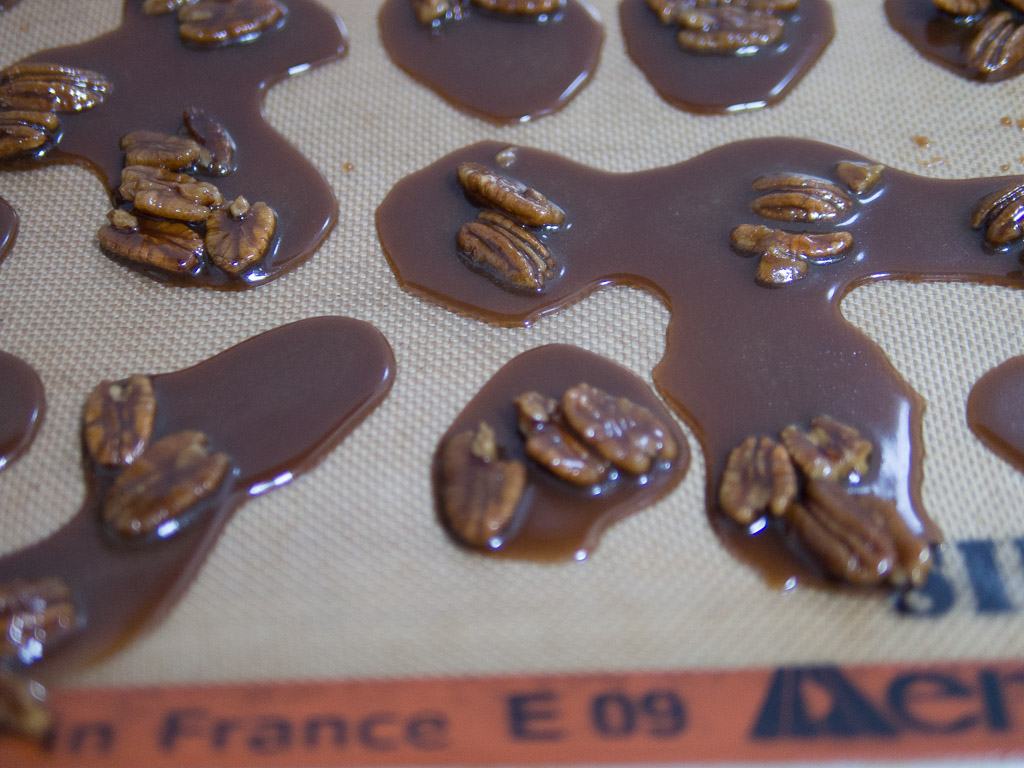 Too runny pralines
So, those were our Christmas party adventures! Overall, very fun to be able to share the holiday with locals who had never really celebrated it and who had definitely never celebrated it American style. I love getting the chance to hang out with people and get to know them, and it's always fun to cook for people and have them in our home. It always makes me glad we came here when we get to hang out with people we never would've met otherwise.